Insigna of the Order the Throne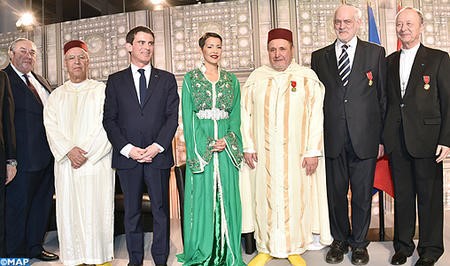 HRH Princess Lalla Meryem presented, in Paris the insigna decorations awarded by His Majesty King Mohammed VI to representatives of Muslim, Jewish and Christian religions in France.
Her Royal Highness Princess Lalla Meryem presented, on February 1st 2015, in a ceremony at the Institute of the Arab Word in Paris the "Insigna of the Order the Throne" (wissams) awarded by His Majesty the King Mohammed VI, to representatives of the Muslim, Jewish and Christian religions in France.
Thus, HRH Princess Lalla Meryem decorated Khalil Merroun, Rector of Evry mosque, Michel Serfaty, Rabbi of Ris-Orangis and Michel Dubost, Evry Bishop, with Wissam Al Arch of third class (officer) at a ceremony in the presence, notably, of the French Prime Minister, Mr Manuel Valls.
Speaking at the opening ceremony, Mr Valls declared that HM the King honors not only France, but also brings together three religions that share the same messages. He added that "in the face of fanaticism and ignorance, the culture of tolerance represents the best response" and emphasizes that France and Morocco are championing the advocacy of tolerance, peace and coexistence, applauding, in this respect, Morocco's constitutional recognition of the Hebraic constituent in its identity.
The President of the Arab World Institute, Mr Jack Lang, underlined that awarding these wissams is a symbolic gesture that illustrates the exemplarity of Morocco, a country characterized by its commitment to the values of diversity and tolerance.
For his part, Secretary General of the Council of Jewish Communities in Morocco and the kingdom's Ambassador-at-Large Mr Serge Berdugo underlined that this ceremony brings hope and comfort, especially as it comes at a particular moment following the terrorist attacks in Paris.
He also highlighted the project of the rehabilitation of Jewish cemeteries, which was launched in 2010 at the initiative of HM king Mohammed VI, lasted four years and involved 167 sites in 14 regions of the Kingdom, noting that this initiative has had an impact on hearts and memories.
The Moroccan Minister of Endowments and Islamic Affairs Ahmed Toufiq said that this ceremony pays tribute to three Moroccans as encouragement to their spiritual guidance mission in Evry, adding that these personalities share several features. They are a source of honor to their country of origin because they always carry their homeland in their hearts, a country known for its commitment to the values of coexistence and tolerance.